Decorating your living room walls can be a little tricky, especially if they're not very large. Fortunately, there are lots of ways to make the most of your space without feeling confined or claustrophobic. The key is to think outside the box and consider how you want your drawing room to feel – relaxed and inviting. Dark and dramatic? Or perhaps more casual and functional? Once you've decided that, you can then look at the different wall-decorating ideas available to you and choose accordingly. From wallpaper to accent walls, there are plenty of ways in which you can bring your living room walls to life! Here are some tips for decorating your drawing room walls.
Why decorate walls?
The best reason to decorate your walls is it's an easy way to add color and personality to a room without having to paint the whole room or spend lots of money. Whether you need to brighten up a dark room or add a splash of color to a room with neutral walls, a few pieces of wall art can do the trick. Another reason to decorate your walls is how easy it is to change the look and feel of the room with different pieces. Wall art is the easiest and quickest way to change the look of a room without having to paint the walls. Wall art is also a great way to show off your personality or your interests with pieces that reflect your interests.
Decorate Living Room walls Tips:
When it comes to decorating your room walls, there are a few things to keep in mind. Here are some tips to help you get started:
Start by determining the overall mood or feel you want to create in the space. Do you want it to be warm and inviting? Or cool and relaxing?
Once you have an idea of the atmosphere you're going for, start picking out paint colors or wallpapers that will help create that feeling.
Don't forget about accent pieces! Things like paintings, photographs, or even sculptures can really add personality to a room.
If you're not sure where to start, try looking for inspiration in magazines or online. There are endless possibilities when it comes to decorating walls!
Consider Budget
The first thing to consider when deciding what to do with your walls is your budget. While decorating your walls can be a great way to add color and personality to a room, it can get expensive if you're not careful. One of the easiest ways to make your drawing room walls look great while saving a few bucks is wallpaper. While wallpaper can be a great way to add a dramatic or bold look to a room without the cost of paint, it's important to remember that wallpaper is a commitment. Once you put wallpaper up, it's there for the long haul. This means you can't paint over it or change it at a later date. If you're not sure you'll like the wallpaper you've chosen for the long run, it might be worth considering a different option. Alternatively, you could choose to paint your walls.
Artwork Or Create Your Own
Looking to add some personality and excitement to your living room walls? There are a few easy ways to do it, but be sure to choose the right pieces for your space. If you're new to decorating, or just want something new to spruce up your walls, here's how:
Start with the basics: A good starting point is a bland wall with some interesting accessories like abstract paintings or statues. Try adding some color and texture with canvases, rugs, or tiles.
Add personality: Each piece should have its own unique purpose and style. When choosing an accessory, make sure it compliments the other pieces on your wall—not just repeat them endlessly.
Experiment: Sometimes what looks best on one person might not work on another. Give your wall a try before you decide which pieces are right for you
Install Shelves Or Hang Pictures
If you're not a fan of wallpaper and prefer the cleaner, more neutral look of a gallery wall, you could consider installing shelves in your drawing room. Shelves are a great way to add a little bit of color to your drawing room while also displaying some of your favorite pieces without having to worry about the hassle or commitment of wallpaper. Another way to bring color and pattern to your walls is to hang frames or put up posters. If you have a bunch of favorite prints, why not display them on your walls? Frames are a great way to add color and pattern to your living room walls without having to spend a ton of money. Frames come in all shapes, sizes, and colors and can be used to display both artwork and photographs.
Change Up Your Wall Colors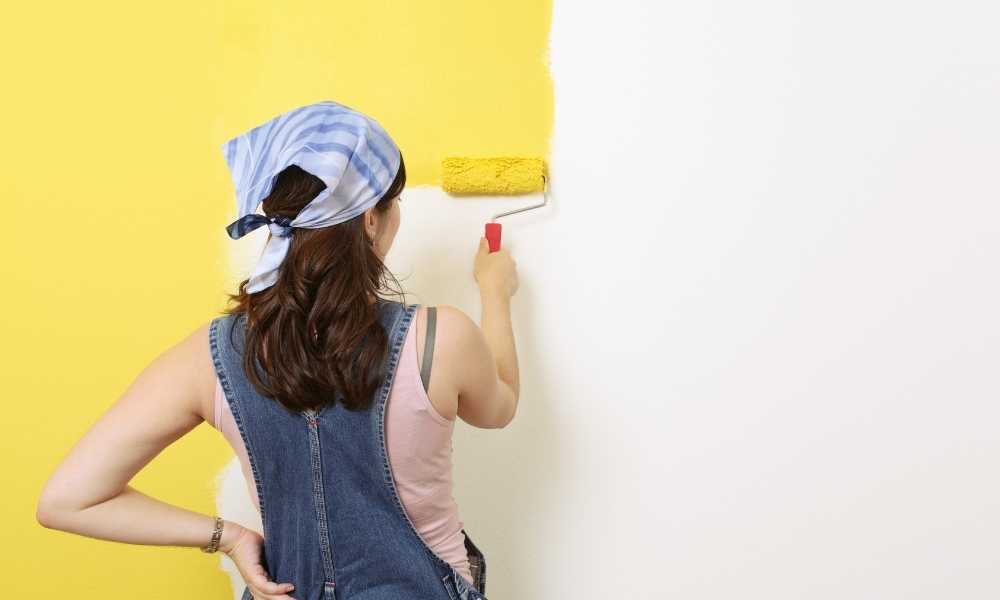 Although we tend to think of walls as being a single color, they can actually be painted in a variety of different colors. If you find that your current wall color doesn't fit with your new living room decor, a fresh coat of paint could be just the thing you need to refresh and revitalize the space. Alternatively, if you're happy with your wall color but would like to introduce some pattern or texture, try adding some wallpaper to one or two of your walls. Even if you paint your walls a different color, you can still make them stand out by painting the ceiling a contrasting color. Alternatively, if you're not keen on the idea of painting the ceiling, you could add a splash of color to it by adding some fabric wall decals or a fabric ceiling blind.
Add A Wallpaper Border
If you want to make a bold (and instantly eye-catching) statement, wallpaper borders are a great way to do it. They can be used in conjunction with a more neutral wall surface, or they can be the only feature wall in the room. Just make sure you choose a border that fits in with your room's overall style, theme, and decor. For example, a rustic-themed living room may benefit from a foil-backed paper border in a warm brown hue. Or, for a more modern look, a border featuring bold or geometric designs in black and white could look great. If in doubt, talk to your local paper-hanging expert for some wallpaper border inspiration.
Hang Art Or Mirrors
If you want your living room walls to look full and artfully arranged, but don't have the space for a big piece of furniture or decor item, consider hanging some framed artwork or mirrors. You can choose to hang these items on neighboring walls to create an even more cohesive look. Alternatively, you could use one single large-framed piece of artwork to stretch out an entire wall. Framed artwork is a great way to add a personal touch, but you can also use mirrors to reflect the light and expand the space. If you want to add a splash of color to your walls, you could try hanging an abstract artwork piece in a similar hue. It's also worth considering using black-and-white photography as a way of adding color to your walls.
Add A Faux Murals
If you've found a wall-decoration idea that you love, but are unsure of how or where to place it, a faux mural may be the solution for you. A faux mural is a large, mural-style wall graphic that has been printed on a long roll of canvas or paper. Once it's been properly secured to your wall, it will look and feel like a real mural, but with a lot less effort, mess, and cost! You can either choose a ready-made mural design or create one yourself using tools like Canva or Adobe Spark. If you choose to create your own, make sure it is large enough to cover the space you want to fill, and choose colors and a theme that will go well with your room's decor.
Hang A Flat Screen TV
If you want a wall decoration that will serve multiple purposes (and be great for entertaining), a flat-screen TV may be the way to go. There are lots of different styles of TV mounting brackets on the market, so you can choose one that will fit your room and your TV perfectly. Remember to measure the space you want to hang your TV in, as well as the dimensions of your TV, and choose a mounting bracket that will fit both. Some brackets will allow you to swivel and tilt your TV, which is ideal if you want to be able to view it from different seating positions. If you want to hide any wires and cables, you can opt for a wall-mounted TV with a built-in soundbar. This will allow you to keep your TV flush with the wall and will keep your living room looking tidy and uncluttered.
Install Built In Shelving And Storage
If you want a practical, minimalistic look for your living room walls, consider installing built-in shelving and storage. This will not only give you lots of extra storage space, but it will also help to break up and visually divide the space, giving your living room a more open and spacious feel. You can create built-in storage either vertically or horizontally, and you can install it either on a single wall or against adjacent walls to create a built-in feature. When choosing built-in shelving and storage, it's important to make sure it matches your room's overall style and décor.
Decorate With Paint
Painting your living room walls is one of the cheapest and easiest ways to update and change the look of the space. You can either choose a bold, statement shade (like orange or purple) or opt for something more neutral like white or grey. It's also worth considering painting just one wall in a bold color, to create a feature wall. Alternatively, you could paint one or more walls with a patterned or textured paint finish, such as an abstract or geometric mural. If you're painting the walls white, bear in mind that you can always add some decorative accents to spruce the space up. You could try painting a geometric mural or pattern on one or two walls for a modern look or paint wood-paneled walls for a classic, vintage-inspired aesthetic. You could also use fabric wall decals or stickers to add visual interest to your walls.
Colored Ceilings And Walls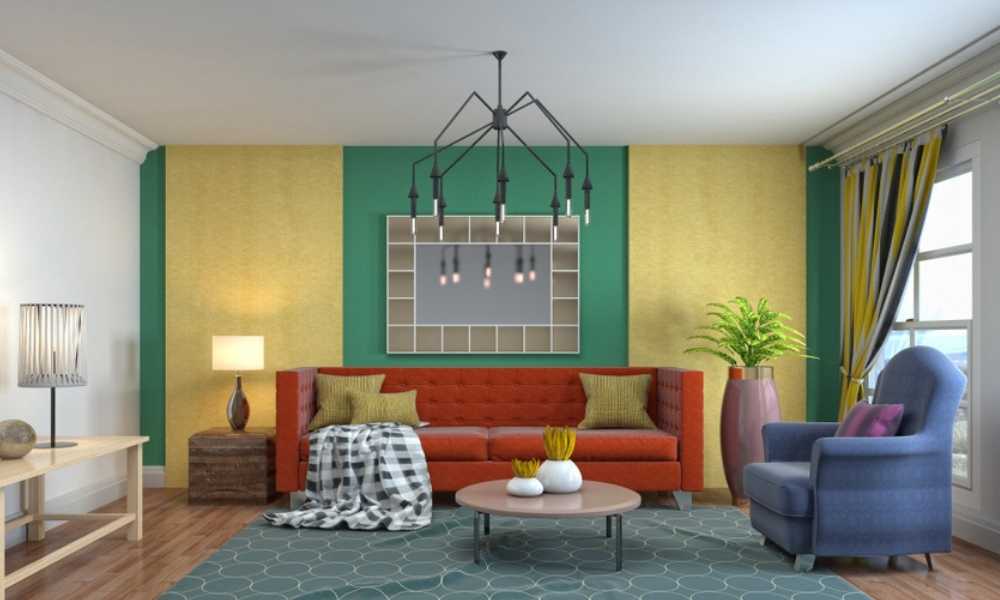 If you're trying to make the most of a particularly small living room, you could try painting the ceiling the same color as the walls. This will help to visually bring the walls and ceiling together, creating the appearance of a larger space. Alternatively, you could paint the walls a bright color and the ceiling a neutral color, which will create contrast and stand out against the walls. This is a great way to draw attention to the ceiling, making it feel less forgotten and neglected. Another idea is to create a patterned ceiling using paint or wallpaper – this is a great way to add texture and interest to a plain white ceiling. You could try painting the ceiling with a single bold color or create a pattern or design using two or more colors.
Conclusion
Decorating your living room walls can be a daunting task, but it doesn't have to be! Start by deciding how you want your space to feel and what kind of vibe you want to create. Once you've done that, you can begin to choose wall-decoration ideas that reflect your desired vibe and style, and that will contribute to the overall look and feel of your living room. See More Post?